In a blink of an eye, Summer is coming to an end soon. What could be a better time to freshen up your home decor? With choices from bold art prints – to textures and even entertaining essentials, this Summer's decor ideas are all bursting with life! Give your apartment a little love and spruce up your interior design game. With trends constantly changing and adapting as the years pass, here is our top pick for this season!
Gone are the days that everyone thought interior design was just a pompous expression for a certain sensitivity and good taste in decorating a space. Something like choosing the right fabrics or colors to use. The true importance is actually having a pleasant and also functional space that we come home to everyday. What's even better than coming home from a tiring day of work and laying down on your favourite couch, mesmerised by your home decor over and over again?
Check out this week's featured piece at #DECORFANTASEA, F3FC!
With Autumn creeping up, it's a must to choose fad that is able to last and will continue to endure the test of time. Nevertheless, this means that a simplistic and calming minimalist design would be your go-to. Keep it neutral as overtly masculine and romanticized feminine interiors are out of the list. Instead, rooms are balanced between soft and robust décor elements!
You can never go wrong with white as part of your decor. Not only it brightens up your area and makes it appear bigger, you can blend white with both modern and scandinavian elements together for a mixture of sugar and spice! In case you are wondering- the contrast of a mostly simplistic space with one element bright and bold feature make the colorful decor even more special because it has a chance to really shine.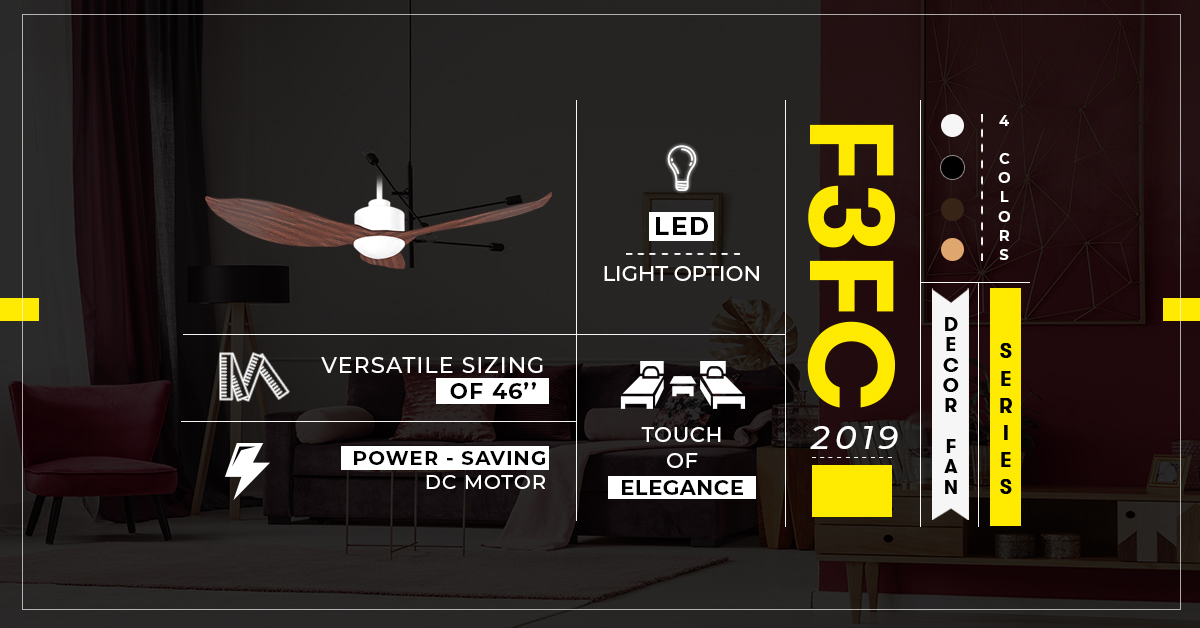 We believe that F3FC needs no further introduction. Available in Dark Oak, Maple Oak, Black and White, this charmer is bound to make you mesmerised with his sexy and slender blades. Curved blades to chase away your summer woes, you can sit back and enjoy the breezier days ahead. Be spoilt for choice with F3FC's 3 light settings, and set the right ambience for any time of the day. You can never go wrong with this picture perfect piece!
---
Up your interior game with this splendid delight and shop our collection of New Year decor fans over at our showcase at 135 Joo Seng Road. Check out our other must-cop decor fan pieces over at dfssea.com! Alternatively, you may contact 6591 8896 to set for an appointment at your preferred date and time.
As for business enquiries and future collaborations, do not hesitate to email your enquiries at fans@decorfansea.com. Delicately balanced craftsmanship and inspiring works of art by the spring breeze, shop decor today!