As a design characterized by simplicity, minimalism and functionality, Scandinavian interior styles are biased towards nature hues. Natural colors are used in furnitures and even floorings to give the impression of being similar to nature. One thing to note is that Scandinavian interior are usually decked in minimal decor and incorporates a fair share of wood laminated materials to ensure that everyone blends in together as one, hence it is best to avoid striking colors that might potentially clash. Due to the fact that the interior will be backed up by minimal furnishings, it is good to have a special emphasize on ceiling lights or fans as it offers versatility, by acting as a statement piece and providing you with luminosity/wind altogether.
Let's cut to the chase- we're introducing 4 of our hottest designer ceiling fans that best suit your Scandinavian themed interior. Be it for the bedroom or living room, there is an option for each.
For the common room..
A compact size of 16 inches, together with it's silver body and hand crafted light wood blades, FIN6 fits into your room like a glove without the colours being too overbearing. Peep at how the colours of the curtains and fan body complements each other! Silver paired with creamy tones are a great addition to scandinavian inspired homes as it gives off soft and cozy vibes. Not to mention that it is extremely space saving, this 'helicopter' fan is great for people who wish to install a ceiling fan and yet does not have adequate space.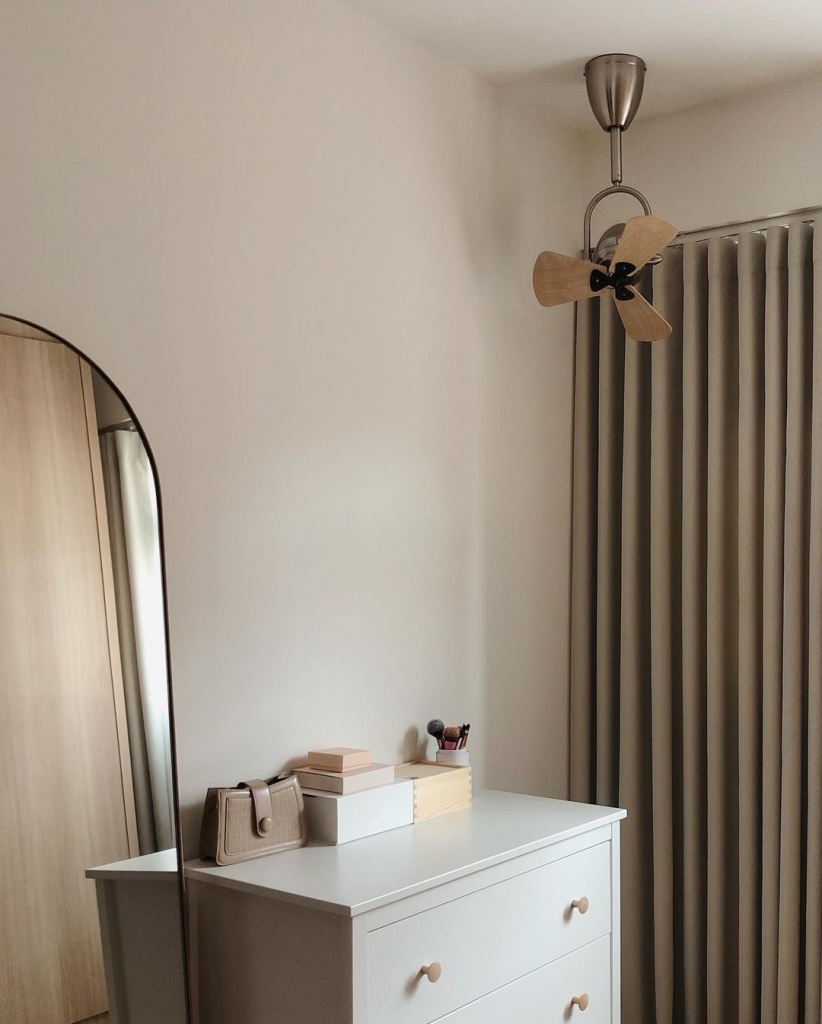 For the living room..
Ever heard of hugger fans? As it comes without a fan rod like a traditional ceiling fan does, it is catered for lower ceiling heights. With the drop down being only 27cm, our ELER is able to accommodate to homeowners who have a false ceiling in their house. White fans are the best choice for minimalistic interiors, hence it will be able to flush in your ceiling and gives the illusion of a bigger space! (with the houses being notably small nowadays, who doesn't want a larger area to unwind in?)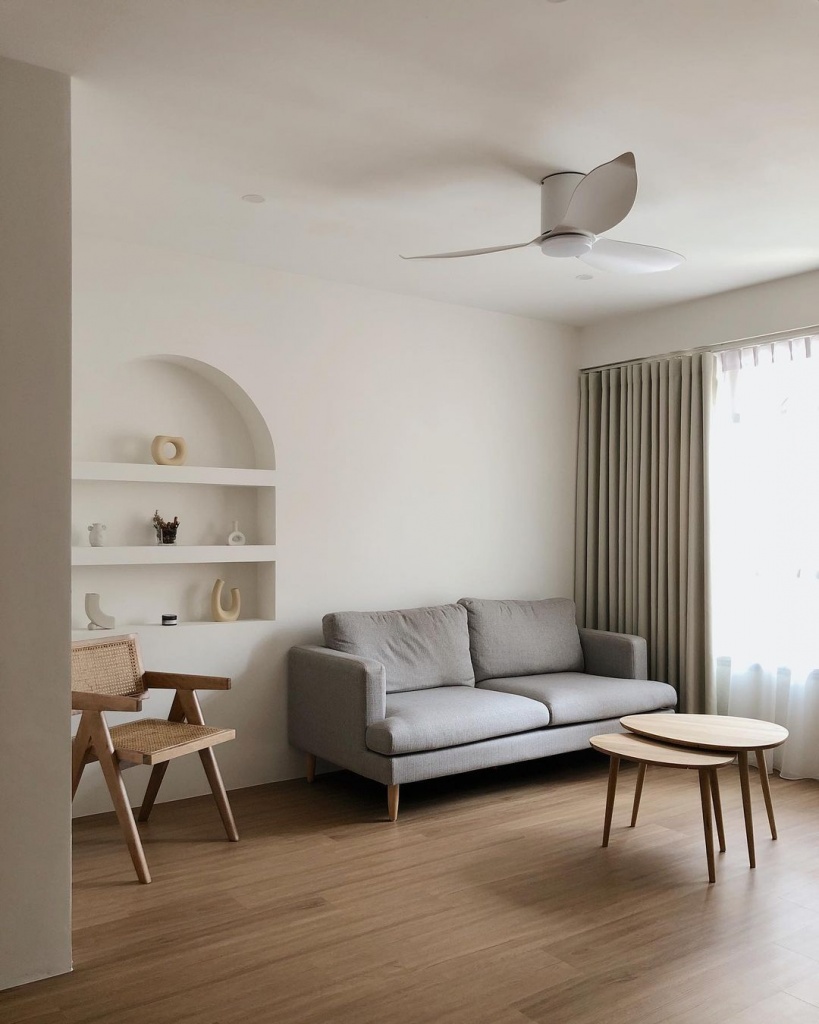 For the bedrooms..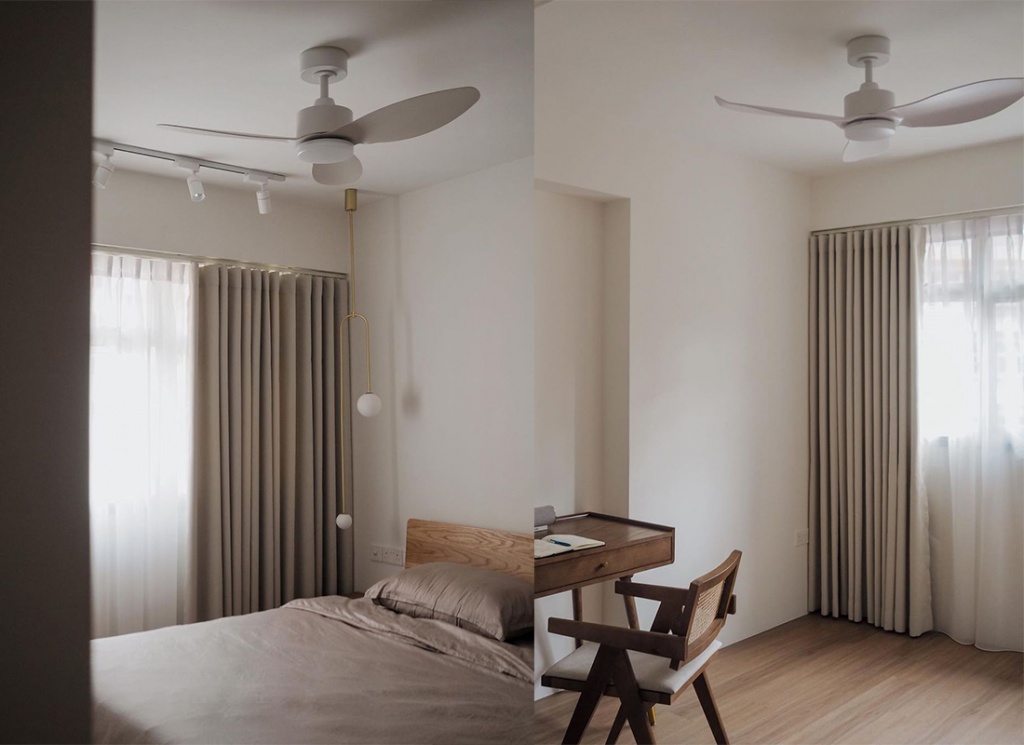 As the ceiling fan size is usually dependent on lights or high furnitures around it, always opt for a smaller fan to preventing shadowing! Presenting our AEF6 in 42 inches, its decent size leaves some clearance away from your existing track lights and provide you with ample lighting throughout the day. It is always good to have more light source so you can switch things up when you feel like it! Opt for a bigger fan such as our AEF3 in 52 inches, if you have sufficient space around the corners. A big fan doesn't mean strong windpower, a fan of the correct size does. Always make sure you have enough clearance at the side of your room so that the wind can circulate without any obstruction.
---
Complement your scandinavian home today! Up your interior game with this splendid delight and luxuriate in our collection of designer decor fans over at our showcase at 11 Tai Seng Drive. Check out our other must-cop decor fan pieces over at decorfansea.com.sg! Alternatively, you may contact 6591 8896 to set for an appointment at your preferred date and time.
As for business enquiries and future collaborations, do not hesitate to email your enquiries at fans@decorfansea.com. Delicately balanced craftsmanship and inspiring works of art by the spring breeze, shop decor today!