With the weather being uncertain recently, the sky could suddenly change from cloudy to sunny in an instant. Lets face it- A standing fan won't be suffice in the long run as it is not able to provide a steady stream of cool air for your entire room. Not to mention that turning on the aircon every now and then would give you a shock when you receive your electric bills.
Forget about the pesky wires, fan noise and the pain of having to clean your standing fan every month. Investing in a good quality ceiling fan can not only save you time and money in the long run, but also save space for those of you who are having trouble squeezing in a fan due to small houses these days.
We've compiled a list of most Frequently Asked Questions about our fans and we're going to answer them today!
1. Whats the difference between an Alternate Current (AC) and Direct Current (DC) fan?
AC motors requires both the stator and the rotor to be electronically charged in contact, and it uses a brushed system, causing high friction that produces excess heat, together with contact noise over the long run. Whereas DC motors' stator is replaced by a permanent magnet stator, which saves you up to 60% electricity in the long run! DC motors utilises a brushless concept minimising contact reducing heat, friction effects, hence promoting durability. Meaning that DC motor not only provides silent performance, it also enables the fan to work at optimum efficiency.

2. Why ceiling fan instead of standing fans?
Style. Maintenance. Wind circulation.
With a wide range of Modern, Industrial and Scandinavian fans to choose from, it is certainly a better choice as you'll have a wider range of designs to choose from. Also, ceiling fans can be cleaned easily using either a feather duster or vacuum cleaner, unlike standing fans, which requires you to disassemble and wash it. To get a better wind circulation around the whole room, a ceiling fan definitely covers a wider area as compared to standing fans as they only target a certain spot.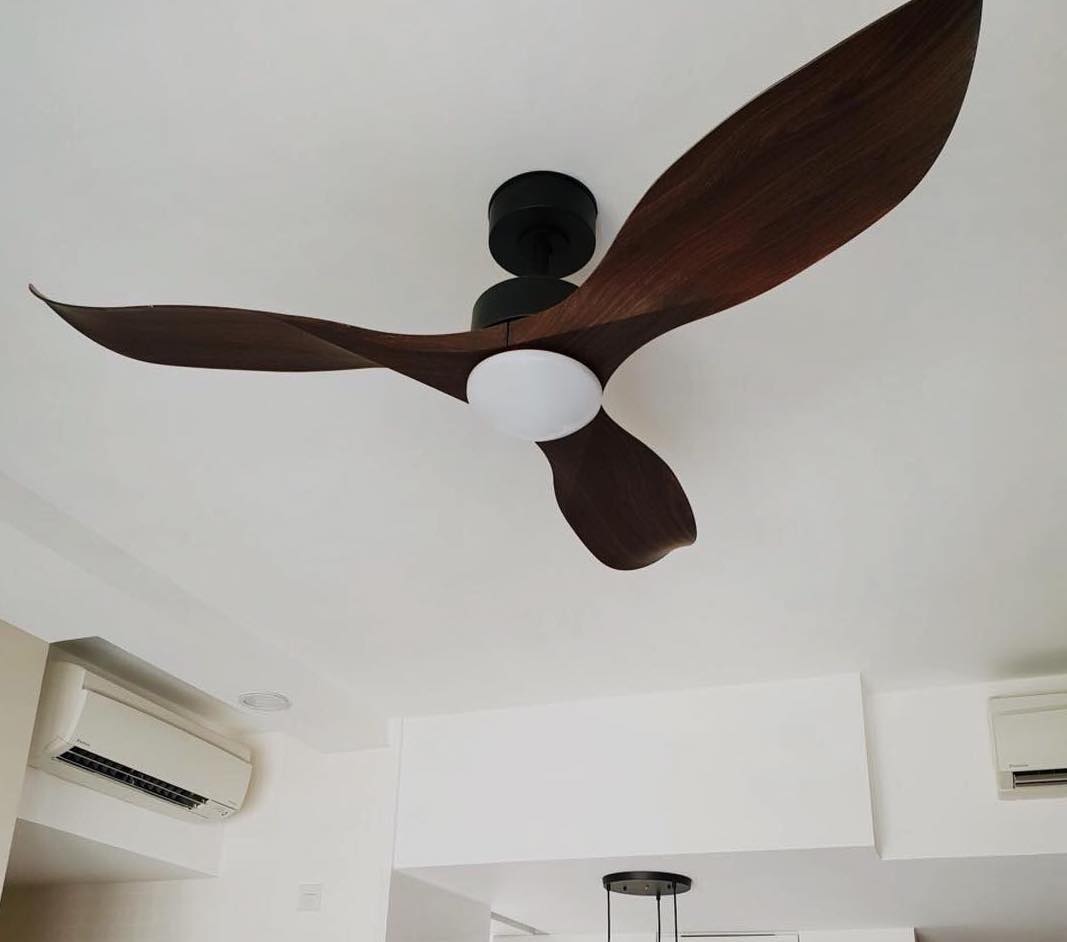 3. How does the fan rotation affect wind flow?
If you aren't aware, DC fans comes in reversible directions. When the fan is spinning in an anti-clockwise direction, it pushes cool air down. The cool air evaporates perspiration, which then creates a wind-chill effect to make you feel cooler without affecting the room temperature. On the other hand, if you are someone who enjoys the coolness from aircon, you can reverse the fan in a clockwise direction. The clockwise direction pushes warm air up to the ceiling to ventilate the wind around you, allowing your aircon to cool down the room faster.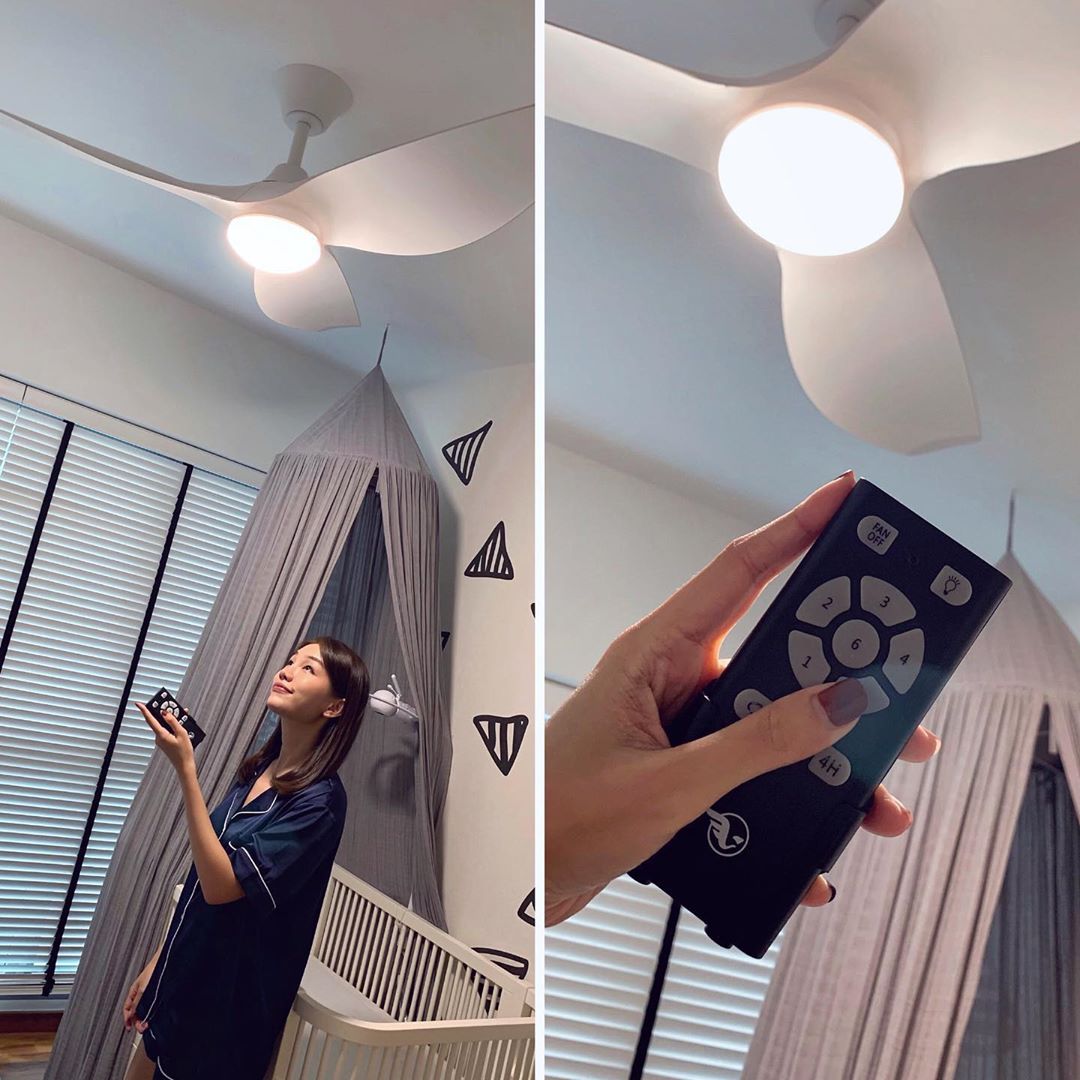 4. Are Decor Fans compatible with Smart Home devices?
Our fans are all Smart Ready on 433MHZ,  meaning you will be able to integrate them to your existing Smart Homes through your Smart Home provider! With just a tap on your phone, control your fan speed, lighting and direction without having to worry about reaching and looking for the remote constantly.
5. Energy efficiency
Living in a hot climate means that your fan will probably be on most of the time. The power consumption of Decor Fans are estimated to be below 48W. Ceiling fans, when properly used, can help to reduce your air-conditioning cost. Time to bid goodbye to your hefty electric bills!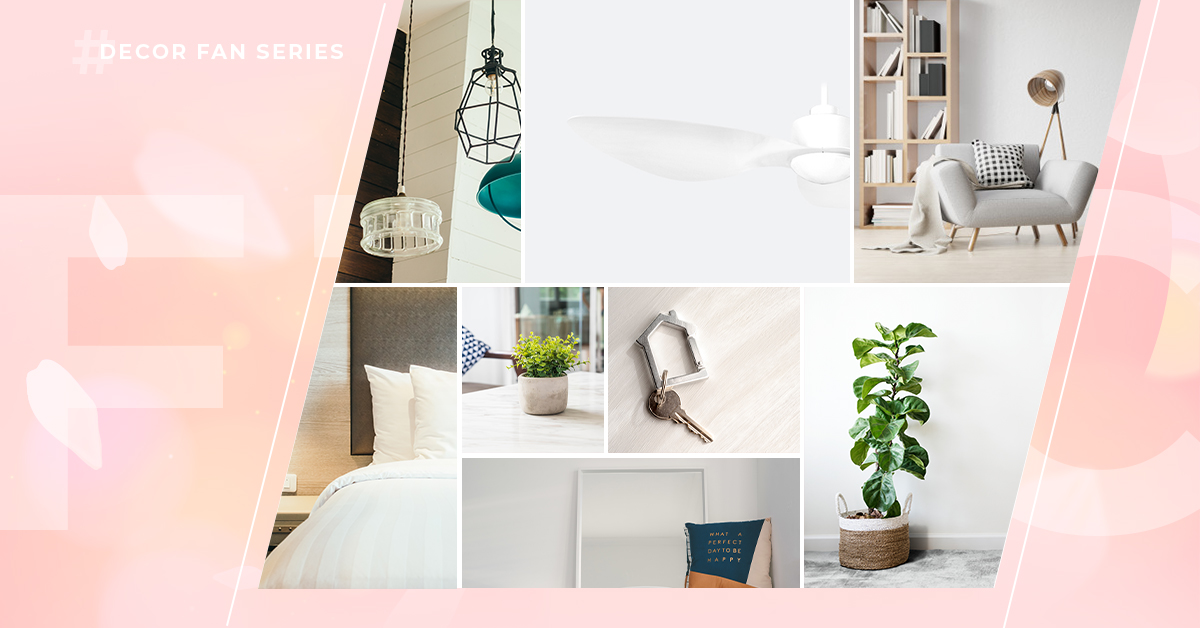 Check out what CuratorSuite has to say about our Decor Fans here!
---
Up your interior game with this splendid delight and shop our collection of designer decor fans over at our showcase at 135 Joo Seng Road. Check out our other must-cop decor fan pieces over at decorfansea.com.sg! Alternatively, you may contact 6591 8896 to set for an appointment at your preferred date and time.
As for business enquiries and future collaborations, do not hesitate to email your enquiries at fans@decorfansea.com. Delicately balanced craftsmanship and inspiring works of art by the spring breeze, shop decor today!